Uttarakhand Destinations:-
A 'land of the Gods' in northern India, with its capital Dehradun, Uttarakhand is known for excellent homestays and low-altitude trekking. The state was created in the year 2000.
Must-sees include Gangotri, the origin of the holy Ganges river. Also, Rishikeshmade famous by The Beatles who visited in the 1960s and Mussoorie, established by the British in 1823, and still known today as the 'Queen of Hill Stations.'
Quirky fact: Haridwar is one of the four places in India where the Kumbhmela takes place. This is the world's 'largest peaceful gathering', with around 100 million people attending.
CORBETT TIGER RESERVE, UTTARAKHAND
Located in Uttarakhand under the watchful gaze of the Shivalik Mountain range, lies Corbett National Park. It is situated on the Ramganga River at the point where the Himalayan Foothills begin to rise out of the plains and this location differentiates it form the parks of central India. Corbett is lush, green and in addition to a good tiger population, also houses wild elephants and over 580 species of birds. The park was first established in consultation with great hunter turned conservationist, Jim Corbett and today, it covers an area of more than 900 sq kms. Chital (spotted deer), Sambar, Common Black-faced Langur, Asian Elephants and perhaps the elusive Royal Bengal Tiger make up its mega fauna.
DHIKALA
Dhikala forest lodge is run and managed by forest department under Corbett national park, it is located in the core area of Corbett national park. The entry gate for Dhikala is Dhangadi gate. You have to show your permits to forest guards here at this point.
Dhikala forest lodge is 30 kms from Dhangadi gate, and it will take around 01 Hr to 01 Hr 15 Mins to cover this distance. This journey from Dhangadi gate to Dhikala itself is full of adventures, you have to cross dense sal forest and Ramganga River with several seasonal rivers, the animals you are most likely to spot while going to Dhikala are herds of spotted deer, Barking deer, Sambhar, Barasinga, Elephants, and Hyena, Fox, Monitor Lizard and even Tigers also.
KUMAON
Kumaon in Uttarakhand is pristine and seldom explored yet it offers some of the most stunning scenery of the entire mountain range including soaring peaks, oak and rhododendron forests, terraced fields and fast-moving rivers. Most importantly though, the Kumaon region is inhabited by simple and sincere people, who have been able to preserve their unique culture and traditions in spite of the onslaught of the modern world.  This is the perfect place for day treks to remote villages, guided walks which either return to the comfort of your hotel at the end of the day or, where it is possible, to stay in converted village homes.  This is such a great opportunity to mix with the locals, understand Kumaoni culture and see some amazing and unspoilt landscapes.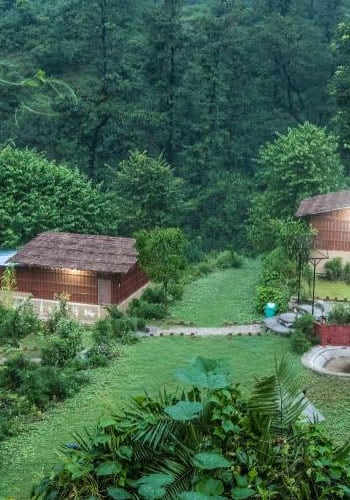 RISHIKESH
Rishikesh, a 5 hour train ride from Delhi, is famous for many things. It is the centre of yoga, its many ashrams –­ some clearly humbly ascetic, with others verge on the opulent – ­continue to draw devotees and followers from around the world. The whole place is considered to be sacred, as it is believed that meditation here leads to attainment of salvation. For tourists, the evening prayer ceremony on the banks of the river is one of the main reasons for visiting. Rishikesh is also where the Beatles spent some time and where they stayed, though now in ruins, it located just inside the Rajaji National Park. For adventure lovers, head upstream and enjoy some of the country's best white-water rafting and treks!