NE India & West Bengal Destinations:-
The North East of India is like another world entirely. A strong Buddhist culture, a plethora of wonderful monasteries, spectacular mountain views, prayer flags fluttering in the breeze, an abundance of natural beauty, orchid farms, treks through Alpine nature and beautiful waterfalls.
Kaziranga in Assam is one of India's most extraordinary parks for wildlife as well as birding and is a UNESCO sight in its own right, of course Assam is famous for its tea plantations too. The capital Guwahati is packed full of colonial mansions and traditional dwellings and is the place to buy a gamosa – a red and white scarf worn by most men (also makes for a tasteful souvenir). Must-visit places include the Assam State Museum in the capital, Kaziranga National park for an elephant ride and to search for the elusive rhinos, and an overnight stay at a working tea estate.
A trekker's paradise, Sikkim is home to some of India's most spectacular scenery. The views on the way to Gangtok, the capital, are almost worth the trip alone. Highlights in this Himalayan kingdom include admiring Kanchenjunga, the world's 3rd tallest mountain, taking in a masked dance called a 'chaam', and hiking between Yuksom and Tashiding. Quirky fact: the local drink, tongba, a millet beer (also called 'chaang') is sipped through a bamboo straw.
Calcutta (now Kolkata) was the capital of India during the British Raj until December 1911, when it moved to where it is today: Delhi. West Bengal may have lost its capital status but there are still plenty of reasons to visit today. Kolkata is a fascinating city and it is evolving fast with new Metro lines and new hotels opening. The Sunderbans is the largest mangrove forest in the world, where you'll see Kingfishers – and if you're lucky – a tiger. The toy train up to Darjeeling (famous for its excellent tea), remains high up on the list for train enthusiasts.
Quirky fact: Malda is famous for its irregular mango season, whereas elsewhere in India mangoes ripen in the summer, here they ripen in the spring.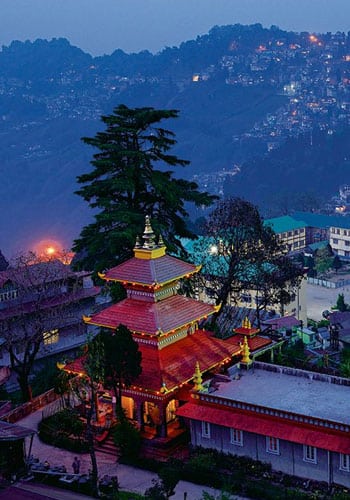 DARJEELING
Set against the stunning backdrop of the snow-clad Himalayan Mountains, Darjeeling is the most important hill resort in Eastern India. It exudes old world colonial charm, and has a reputation for producing the 'champagne of the west', better known as Darjeeling tea. 'The Mall', where you can stroll around and play with your own ideas of the ideal Victorian holiday resort, dominates the pedestrian only town center. Nearby Tiger Hill offers a breathtaking view of the Himalayas, which are particularly spectacular at sunrise.
DIBRUGARH
Dibrugarh the gateway to the "Hidden Land" of Eastern Arunachal Pradesh and an unexplored and undisturbed haven. It is best known for its rich tea gardens forming a verdant green carpet across the hillsides and its Heritage Chang Bungalow which are constructed on stilts in order to keep the houses cool as well as keeping flood waters and animals out!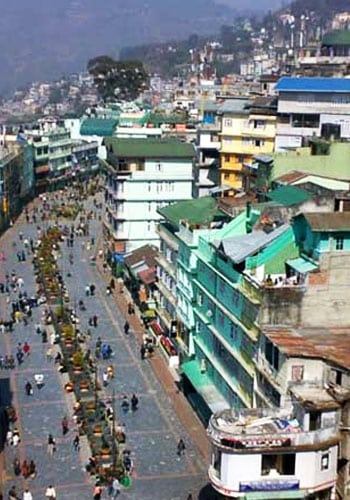 GANGTOK
Clinging on to a vertiginous outcrop, Gangtok gazes out across the Yumthang valley. Established in the 1840s as a Buddhist pilgrimage route, it still sees a steady flow of devotees, mala beads, prayer wheels in hand, traversing its streets. A centre for Tibetan Buddhism, the Namgyal Institute of Tibetology, housed in a traditional Tibetan style mansion, is a superbly curated museum. Gangtok also serves as a stop for would be mountaineers enticed by the Himalaya's siren call. From Rumtek to Tsomgo Lake there are plenty of picturesque (and of varying difficulty) treks.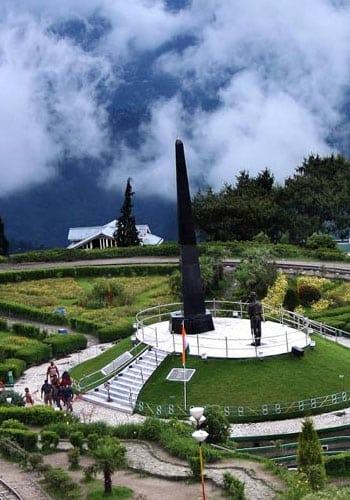 KALIMPONG
A former trade route for tea and spices between Tibet, Nepal and Bhutan, and belonging to the then kingdom of Sikkim, Kalimpong now lies between the states of West Bengal and Sikkim. Covered in forests of mountain oak, and carpets of flowers, in the spring it is famed for its cultivation of roses, dahlias and orchids. Influenced by its former trade link routes, Kalimpong is home to plenty Buddhist monasteries housing ancient Tibetan manuscripts and ornate wall paintings, Durpin Gompa being the most impressive.
KAZIRANGA NATIONAL PARK
This national park, in the eastern state of Assam, is one of India's best wildlife success stories bringing great Indian one-horned rhinoceros back from near extinction from just 12 in the 1950s, to around 1500 today. Kaziranga's stunningly beautiful landscape comprises savannah grassland, the green and fertile plains of the Brahmaputra River, as well as evergreen, moist deciduous and swamp forests, and is also a haven for over 300 species of birds, as well as wild elephants, Asiatic wild buffalos, tigers, leopards, sloth bears and many deer species.
NB: THE PARK IS OPEN FROM 1ST NOVEMBER TO 30TH JUNE.
CALCUTTA, (KOLKATTA)
Calcutta is a city of glaring contrasts, a curious blend of the old and the new it represents a mix of East and West; a European city imposed on an Asian landscape that gives it charm, confusion and excitement. This was the British capital until 1911 and today you can see elegant but crumbling relics of the Raj, covered in moss and mildew. It is still the creative capital of India, producing fine art, music and drama and drawing the best performers and their fans. While here you must visit the Victoria Memorial, Calcutta's most imposing monument, opened by the Prince of Wales in 1921 and often called the "Taj Mahal" of the British Raj. Other fascinating sights include St. Paul's Cathedral and the Indian Museum, with one of the best collections of Indian art in the whole of the subcontinent.
PELLING
Known for its beauty and tranquillity: from the sacred Khecheopalri Lake, ensconced by the Khechoedpaldri hills to the Khangchendzonga waterfalls. The Rabdentse Ruins, the palace of the former Sikkim royal family provides an insight into the region's history and is a fascinating day trip. At an altitude of 7200 feet, Pelling enjoys a temperate climate in the summer months and drops to single figures during the winter.