The jewel in India's crown, Rajasthan is resplendent and is everything you'd hope for and more. There are forts, palaces and havelis (many of which you can sleep in), a friendly population (who are excellent hosts), deserts, festivals, camels, and some of the best shopping on the planet. Don't try to fit it all in on one trip, as no doubt you'll be back.
The pink-city of Jaipur with its City Palace, Palace of the Winds, winding bazaars and the JantarMantar astronomical complex – is a must-visit. After that there are dozens of other options, but the Blue City, Jodhpur, with its Meheranagrh Fort is often the next stop. Also not to be missed is the sandstone city of Jaisalmer, founded in 1156.
Quirky fact: Jaisalmer is not just about desert camel safaris (although we recommend one), at the Akal Fossil Park you can go in search of huge Jurassic trees scattered over remote deserts.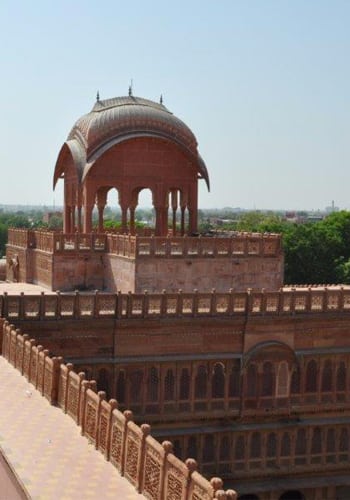 Bikaner, Rajasthan
Bikaner is situated in the northern region of Rajasthan. One of the earlier established cities, Bikaner still displays its ancient opulence through palaces and forts, built of red sandstone, that have withstood the passage of time. The city boasts of some of the world's best riding camels and is aptly nicknamed 'camel country'. It is also home to one of the world's largest camel research and breeding farms; as well as being known for having its own unique temple dedicated to Karni Mata at Deshnok, called the Rats Temple. Bikaner is also home to one of the only two models of the biplane used by the British during World War I. They were presented by the British to Maharaja Ganga Singh, then ruler of the city. Another unique aspect about Bikaner are the sand dunes that are scattered throughout the district, especially from the north-east down to the southern area.
Chanoud Garh, Rajasthan
Intensely personal and engaging, the family of Chanoud Garh welcome you into their family home. They have kept the renovations small and personal and have just ten suites meaning that they are able to give the attention to detail and hospitality that Rajasthan is so famous for. Considered 'off the beaten track' by most, this isn't a place that a lot of people have heard of, and that it what makes a stay here special. You have the opportunity to relive the history of the family and the region as you explore the lovingly restored sections of the palace and acquaint yourself with the land and its people through interesting village walks and excursions. A particularly unique experience drive is to the expansive salt pans at sunset and another is to take a morning walk around the village accompanied by Mahiraj Singh, which allows you the opportunity to meet the locals, including the village potter and shop owner.
Devshree, Deogarh, Rajasthan (A Destination Hotel)
Dev Shree luxury homestay in Deogarh, Rajasthan has the advantage of being a newly built home, but with traditional Rajasthan architecture and character. In the words of one of the guests "gone is the musty, dusty feel so often associated with traditional rural properties.´ In addition it is situated in a rural location, on the edge of the Ragho Sagar Lake with the Gokul Fort at its far end, perched on a hill.  The large verandahs overlook the lawn  which stretches out to the water infusing a sense of calm.  The lake plays host to a large variety of migratory birds in the winter- welcome visitors! This is the perfect place to spend a couple of nights to detox from the chaos of Rajasthan's cities and to have the unique hospitality of two of India's most gracious hosts, who will delight you with stories of living in the region and are happy to answer any questions on this unfamiliar culture that you may have. It is a wonderful way to visit off beat Rajasthan and explore this tiny town, enjoy walks at sundown and sit around the campfire chatting to the family.
A fun experience whilst there is the Phulad to Khamblighat journey by a local train across the Aravalli range. This is a narrow-gauge rail track built by the British and now only used by locals.  The scenery is extraordinary as you cross Viaducts and cut through small tunnels and gaze out onto true Rajasthan countryside. The locals are as fascinated by you as you are by them and at one point, monkeys hop on board hoping for a treat of biscuits. A great fun way to spend a couple of hours.
JAIPUR
Jaipur is Rajasthan's most famous city and the gateway to the rest of the state. Known for its City Palace, Amer Fort and the Hawa Mahal, as well as the timeless bazaars full of vibrant textiles and trinkets which form an integral part of the old city center. What fewer people know is that Jaipur is also famous for its block printing and jewelry, at one time 80% of the worlds jewels crossed this city on their way to market. There are also fascinating walking tours of the old city, cycle rides and, to gain a bird's eye view, hot air balloon safaris (seasonal). A visit to Jaipur is to immerse yourself in the sensory whirl of streets packed with camel carts and cycle-rickshaws, Mercedes & motorbikes which make Jaipur a dazzling, spirited city like no other.
Jaisalmer, Rajasthan
The golden citadel of Jaisalmer rises up majestically out of the Thar Desert. Its massive sandcastle-like fort and the city that surrounds its base are filled with intricately carved spires, turrets, palaces and temples, which retain a quality that transcends time. This magical city is unlike any other in India and feels like something straight out of 'A 1001 Nights'!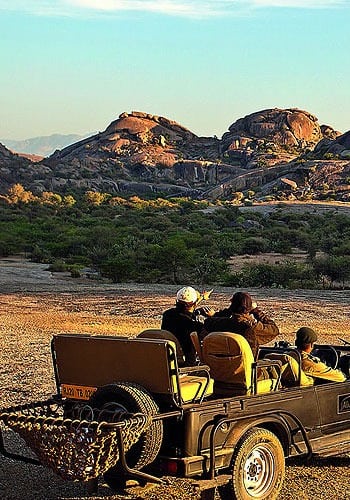 JAWAI
An area of extraordinary natural beauty, Jawai has remained a best kept secret for centuries apart from, of course, with its local inhabitants, the Rabari tribals, distinctive by their vivid red turbans and a healthy leopard population. The two have lived in harmony together here for centuries. Safaris here are a wonderful amalgum of Rajasthan's secret wildlife, including leopards, jungle cats, the occasional wolf and a prolific birdlife and these tribals, herders by tradition, whose life hasn't changed in centuries.
JODHPUR
Jodhpur's Fort has to be the most impressive, and best preserved of all the forts in Rajasthan. It towers majestically above the town and one can imagine how impregnable this must have looked centuries ago. However, within its walls are treasures and stories to enthrall.  The bazaars of the old city are full of colours and spices and clothes and street food and is fascinating to explore on foot.   Other sites include Jaswant Thada memorial and the royal gardens at Mandore. Another fascinating sight is the Umaid Bhawan Palace, art-deco palace, built for the Maharaja and where the family still lives. Jodhpur also has a host of activities from zip wiring to jeep and horse safaris, royal picnics and camel rides beyond the main city where one can explore the desert countryside and discover charming and colourful villages and a unique, rural way of life.
Mihirgarh, Rajasthan (A Destination Hotel)
Mihirgarh, a Relais and Chateau property has been created in the style of a small fort, having just nine suites, most with private plunge pools, the hotel has 360° views and is surrounded by the Thar desert.  Luxury is the order of the day here.  Each of the spacious suites has adjoining sitting rooms, courtyard and terrace facing out to the surrounding countryside.  An infinity pool, shady sitting areas and a barbeque area all fan out from the main dining room which is wonderfully airy in summer and warm and cosy in winter.
The brains and inspiration behind this magical, small hotel, built of mud, wattle and wood, are the Rohet Family who are exceedingly keen horsemen and who boast some of the country's finest horses. Come here to ride, explore the wonders of Jodhpur, go on a camel or village safari, or pamper yourself in the excellent spa. Privacy and intimacy are the bywords here. A unique place where the outdoors comes indoors! This hotel provides the ultimate in luxury and comfort and is highly recommended for anyone who thinks that it may be time to treat themselves.
Nimaj, Rajasthan
Formerly the hunting reserve of the local royal family, today it attracts migratory birds during the winter months to the reservoir. Rustic farmsland, rolling hillocks and small villages surround it, a stay here allows you to experience rural Rajasthan in a way that few other places do.
Ramathra Fort, Rajasthan
Rajasthan has a history of battles fought over land, power and women. The loyal subjects who led their men into battle, fought well and won, were rewarded with land upon which many of them built beautiful homes.  There were also taxes to collect and strategic places to protect hence forts being built throughout the countryside and the spectacular views from Ramathra Fort, looking down over the sprawling valley reflect this beautifully.
This is a gem of a rural destination where one can really see what Ghandi termed to be the true heart of India,- its villages and rural populations a world away from the chaos of urban India. There are guided walks to ancient temples, along dried river beds and ravines, walks around the local villages, evening boat rides on Lake Kalisil, just a stone's throw away and jeep safaris to explore a little further afield.  Wildlife is now returning to the area, though it remains elusive but the occasional pugmark can be spotted and there is a plethora of local and migratory bird life to keep watch for.
Meals are made up of locally farm produced food and old family recipes and evenings start with sundowners around a camp fire, chatting with other guests before moving in for dinner.  Later on, take time to stargaze from one of the beds located on the ramparts, with no surrounding urban population, and therefore no light pollution, the skies are spectacular.
Accommodation here is made up of six luxury tents, four stylish rooms and if you really want to spoil yourselves, opt for one of the two sumptuous suites.
Shahpura, Rajasthan
Shahpura is a tranquil Rajasthani town relatively untouched by tourism, and dotted with lakes and verdant hills. Ancient forts and palaces are scattered all around, with the area's local arts and crafts traditions drawing fascination. The people here are unaccustomed to tourists and are consequently inquisitive and more than welcoming.
UDAIPUR
Rather than being a desert state, Udaipur is set apart from the other cities of Rajasthan due to its rolling hills & shimmering lakes which, coupled with beautiful views and large open spaces. Many consider it to be the most beautiful and romantic city in Rajasthan. To add to its charm, it has the atmosphere of a small town, being surprisingly quiet and traffic free with winding, shop-lined alleyways and tree-lined streets leading to the impressive City Palace, which overlooks the legendary "floating" Lake Palace. It is safe to say that Udaipur rivals any of the world's famous creations in its Rajput love of the whimsical, majesty and superbly crafted elegance and is a great place to relax for a few days at the end of a tour.