One of the world's best-loved destinations, Kerala has it all: beaches, wildlife, backwaters and some of the best food on the planet.
Don't leave without taking a backwaters tour on a converted wooden rice barge or before witnessing a performance of Kathakali – a masked drama that never fails to grip audiences. Also, consider the Periyar Wildlife Sanctuary, a former royal hunting reserve where today you can see wild elephants.
Quirky fact: Unlike the rest of India football has traditionally been more popular than cricket in Kerala, although the Twenty20 league is changing tastes.
ALLEPPEY
Alleppey is a small town situated in the Backwaters of Kerala and is the most popular place to start a cruise along the winding waterways, lakes and canals of this beautifully peaceful area. It is a major centre for trade in coir products, copra (dried coconut meat) and coconut oil for cooking as well as Ayurvedic products. There is a long stretch of beach to wander along  which has a lighthouse and a pier jutting out into the sea, once active in the unloading of goods from cargo ships calling here.
BACKWATERS
The romantic and unique Backwaters of Kerala are made up of a labyrinth of canals and lakes that stream between Cochin and Quilon in the south. From the vastness of Lake Vembanad to quiet streams just large enough for a canoe, the Backwaters form the arteries through which rural daily life calmly flows – children splashing in the water, women washing clothes at the water's edge, fishermen, neck deep in water digging out fish with their feet, rice barges transporting coconuts and rice and, above all, an overriding sense of peace and tranquility that permeates every aspect of this region.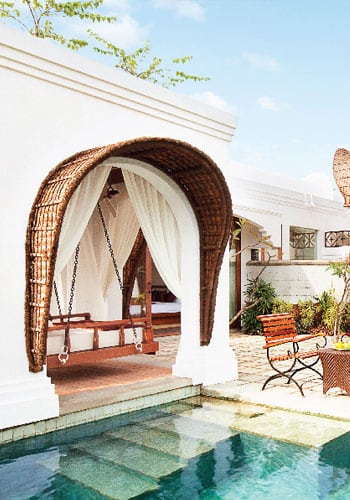 BEKAL
Bekal, in the undiscovered north of Kerala is one of the region's best kept secrets. Whereas southern Kerala has become popular with tourists, meaning a heap of building on its beaches and a multitude of houseboats plying its backwaters, this area in the far north has remained untouched yet offers stunning beaches and rarely visited backwaters, it's like southern Kerala thirty years ago!  In addition, the fort at Bekal which overlooks a delightfully long, empty golden beach, is the largest and best preserved fort in the whole of Kerala.  If you like to go off the beaten track, appreciate a destination which is natural and unspoilt, then we can highly recommend heading north and discovering Bekal.
COCHIN
Cochin, documented since Roman times, is the oldest European settlement in India. With its enchanting Jewish quarter, picturesque Chinese fishing nets, Portuguese churches, Hindu temples and bustling spice and antiques bazaars, Cochin has a seamless blend of diverse architectural and religious influences. This ancient port has now split into two main parts. The old town of Fort Cochin on the peninsula has winding alleyways lined with merchant houses and spice markets whilst the brash, modern industrious city of Ernakulam is on the mainland. The Old Fort area is a wonderful place to wonder around at leisure.  Take time to visit the Jewish Synagogue, Mattancherry Palace, St. Francis Church, the spice markets and antique bazaars as well of course as the Chinese fishing nets. A sunset harbour cruise or a visit to a Kathakali dance performance is the ideal way to bring the day to an end.
KUMARAKOM
Kumarakom is an emerald peninsula of paddy fields, meandering lagoons and backwaters that juts out into Lake Vembanad. It is rich with slender coconut palms and mangroves providing accommodation for nesting birds of a hundred varieties. This is not an area for sighseeing but rather for relaxing, a place to take in and absorb the natural beauty and the sense of peace that pervades.
From the vastness of Lake Vembanad to the quiet streams just large enough for a canoe, the Backwaters form the arteries through which rural daily life calmly flows – children splashing in the water, women washing clothes at the water's edge, fishermen up to their necks in water digging out fish with their feet, rice barges transporting coconuts and rice (the staples of the Keralan diet) and, above all, an overriding sense of peace and tranquility that permeates every aspect of this stunning region.
In addition the area is a birders paradise and the bird sanctuary here, which is spread across 14 acres is a favourite haunt of migratory birds. Egrets, darters, herons, teal, waterfowl, cuckoo, wild duck and migratory birds such as the Siberian stork are a fascination for visitors. The best way to watch the birds of the Kumarakom sanctuary is a boat trip round the islands.
MARARIKULAM
A small fishing village in Kerala located just back from the long stretch of beach, Mararikulam is a destination where the way of life here has hardly changed in hundreds of years as the fishermen go out daily find their catch while the women look after the domestic chores. However it does also offers endless miles of superb sand beaches backed by swaying palms, virgin territory where you can stroll along for as long as you are inclined.  This is the perfect place to relax at the end of a holiday and many of the hotels here, all of which are charming and characterful serve a wonderful array of sea food and also provide ayurvedic massage facilities.
MUNNAR
Situated in the heart of the Cardamom Hills, Munnar is surrounded by endless green rolling hills and thirty of the world's highest tea estates. Planters live in gracious bungalows left over from the Raj and the surrounding forest is rich in wildlife. Munnar is full of grand old churches and picturesque houses and offers plenty to do by way of walking in the hills and visiting working tea and cardamom factories.
PALLAKAD
Pallakad takes you back to a life in Kerala rarely experienced nowadays. Surrounded by the gentle hills of the western ghats it boasts an enchanting rural landscape perfect for morning and early evening walks. Surrounded by hills, rivers, mountain streams and forests it is the gateway to Kerala from the north, a 40 kilometre break in the mountains known as the Palakkad Gap acts as a corridor between Kerala and neighbouring Tamil Nadu. This is an area which even today remains unspoilt and has charming pockets which are still very traditional. Pallakad and the surrounding villages in the area offer visitors a side of Kerala rarely seen.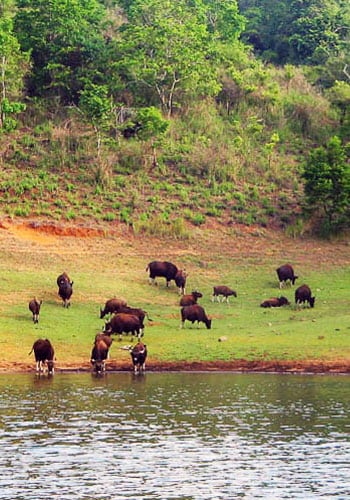 PERIYAR NATIONAL PARK
The Periyar Wild Life Sanctuary is one of the 16 Project Tiger Reserves in India and is amongst the most picturesque wild life sanctuaries in the world. It is one of India's best parks for spotting wild elephants, bison, wild boar, gaur, deer and a variety of birds though the tiger does tend to remain elusive. The heart of this sanctuary is the Periyar Lake where there are regular boat trips, which are hugely popular, often proving to be far more exciting and interesting an experience in people watching than for wildlife enthusiasts. Guided treks and bamboo rafting in the park are a great opportunity to stretch your legs and get closer to both nature and the wildlife.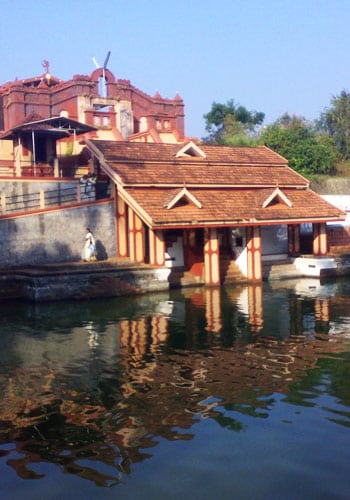 TELLICHERRY
Although Tellicherry is not usually considered to be "on the tourist trail" that is actually part of its charm.  This coastal town offers a glimpse of the genuine Keralan way of life, and boasts an enchanting, long, sandy beach. The markets of Tellicherry are definitely worth a visit for their good sea food, vegetables and quality fabrics.  Visit bidi rolling factories, textiles mills and the local temples where, if the dates are right, one can witness the temples performances as produces for the locals, rather than for tourists in the hotels.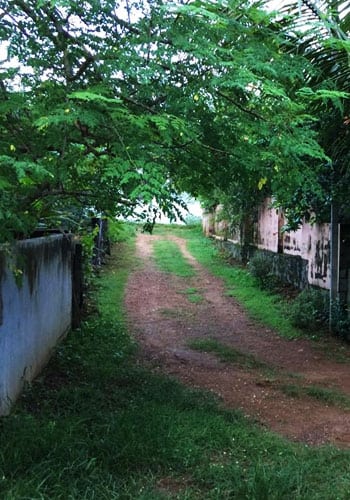 VAZHOOR
Vazhoor, poised halfway between Cochin and Periyar, is a quiet and picturesque location on the lower slopes of the Cardamom Hills where rubber plantations thrive. This area is also known for its high yielding plantations of cocoa, aromatic black pepper corns, cardamom, pineapple, tapioca, papaya and banana. This place is ideal to use as a base for visits to the Aranmula Cultural Center on the Pamba River, where performances of classical and Kathakali dances can be observed, and courses on astrology and natural medicine are offered. Situated nearby is Kotttayam, Kerala's main Christian center, which boasts the 16th century churches of Cherai Palli and Valia Palli.
WAYANAD
The Wayanad district of northern Kerala is blessed with majestic mist-clad mountains and verdant valleys. The name Wayanadu is believed to have been derived from the word 'Vayalnadu' which means the 'land of paddy fields'. The rich cash crop plantations of pepper, cardamom, coffee, tea, spices etc and paddy are the main agricultural produce here. Another feature of Wayanad is the presence of large number of tribals or adivasis. The main places of interest in Wayanadu are Edakkal Caves, Amblavayal – magnificent rock caves with pre-historic carvings, Chembra Peak – Highest peak in the district, 'a trekker's paradise' with breathtaking scenic beauty and Wyanad Wildlife Sanctuary – with elephant, spotted deer, gaur, etc and large number of reptiles and birds.