Uttar Pradesh Destinations:-
Uttar Pradesh is perhaps best known for the Taj Mahal, but there is a lot more to this northern state than India's most famous icon.
Its capital Lucknow has a wealth of colonial architecture – as well as palaces – and then there are the ghats (steps down to the Ganges) of Varanasi, the ghostly Fatehpur Sikri and the important Buddhist pilgrimage site of Sarnath.
Quirky fact: some experts fear that the Taj may be sinking into the riverbed of the Yamuna River as it dries up. Better visit sooner rather than later.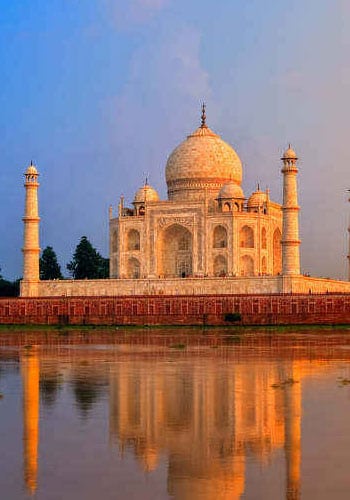 AGRA
Synonymous with the Taj Mahal, India's most famous and romantic monument, Agra is a must do on most peoples' first visit to India. Most people say to visit at sunrise or sunset for the changing hues on the marble but this is when the monument is very busy, aim for an hour after sunrise when there are fewer people. Also, Agra has many monuments which would make Agra worth visiting as a destination in its own right without the Taj. Visit Sikandra and the Tomb of Itmad-Ud-Daula, with its river side location and fine filigree work, in some ways it is finer than the Taj. For something different, take half a day to visit Wildlife SOS, an NGO which provides homes for rescued sloth bears and elephants.
CHAMBAL
The rarely explored Chambal Valley, just an hour from Agra is a beautiful area complete with stunning landscapes, wildlife, ancient fortresses & crumbling ruins. The Chambal Sanctuary itself is one of the last surviving habitats of the Gangetic River Dolphin as well as providing protection for 1200 Gharials & 300 Marsh Crocodiles, eight species of turtles & smooth coated otters. The Sanctuary also boasts a rapidly increasing and impressive bird list of over 330 species of resident and migratory birds. Also not to be missed is the ancient temple complex at Bateshwar consisting of more than a hundred temples dedicated to the Hindu God Shiva.
LUCKNOW
Lucknow once enjoyed the patronage of the Nawabs, who raised its profile as a centre for dance, music, and culinary arts. To this day, it retains its reputation for producing great music, art, and poetry. It was also the scene of the Indian Mutiny and today, with each of its monuments, being immaculately maintained and having a fascination history, makes this a city well worth visiting, take time to see La Martiniere, The Residency was the scene of the Indian Mutiny, The Bara Imambara and the Chotta Imambara.
Beyond its monuments, Lucknow is also famous for its shopping, perfumes and food. It's beautiful chikan kari work, oil-based, naturally scented perfumes have been family businesses here for generations and a street food tour here is a must.
VARANASI
Varanasi is considered the oldest living city in the world and it is the most important city in India for Hindus. It isn't an easy city to visit but it is fascinating, colourful temples line the banks and a network of narrow alleys lead down from the town to the water's edge. As the sun rises over the River Ganges in the early morning, you will witness many of the faithful as they come to the ghats to pray and bathe. A morning boat ride is one of the best ways to view this. Varanasi can be overwhelming but will undoubtedly leave you with lasting memories.  Close to Varanasi is the Buddhist center of Sarnath, where Budhha preached his first sermon and a spiritual place of stupas, shrines and temples.