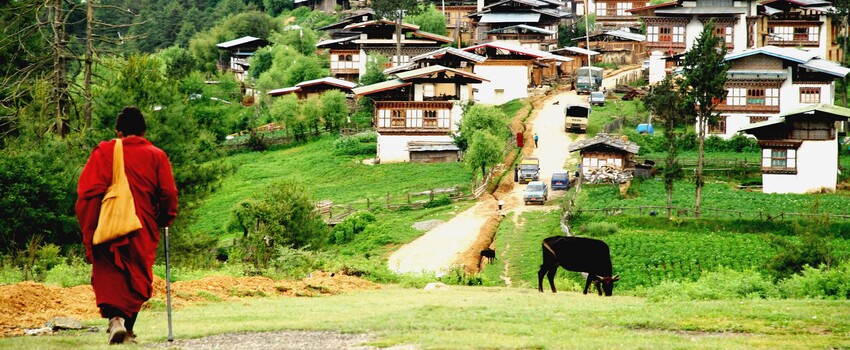 One of the world's most mountainous countries, wedged between the Himalayas and Eastern India, Bhutan is a captivating and enigmatic Kingdom. Its culture is steeped in ancient Buddhist traditions which influence every aspect of life here.
The Himalayan landscape is simply beautiful and many deep verdant valleys fringed by primeval forests can be found in the shadows of towering snow-capped mountains. Many of the Dzong's you will find, each with colourful traditional architecture, were strategically located in the countryside for defensive purposes. Their imposing structures provide a fine juxtaposition against the serene backdrop, often located in hilly areas with breath-taking views.
Just a short amount of time is required to demystify why Bhutan is often cited as one of the happiest nations in the world. The people you meet are proud of their tiny nation and preserve their customs and ancient traditions with great warmth and geniality. Whilst traces of modern development can be found in the capital Thimphu, monasteries and Bhutanese style buildings far out-number the high rises. In rural, Bhutan, you will find many locals welcoming you in their homes and as many children dressed in traditional attire as you will in jeans and t-shirts.