It sounds clichéd, but it's true: to taste the cuisine of another country, is to get a taste of its very culture. As diverse as each state, India's gastronomic practices are as colourful and varied as the land itself.  Interwoven with religious customs and celebrations, food is to be found at the beginning, end, and every milestone in between, of life in India. What better way to scratch the surface of a destination, than to walk in the footsteps (we call them foodsteps) of its expert Epicureans? Though there are countless delicious options to choose from, Bespoke India has whittled down our five favourite food walks in India.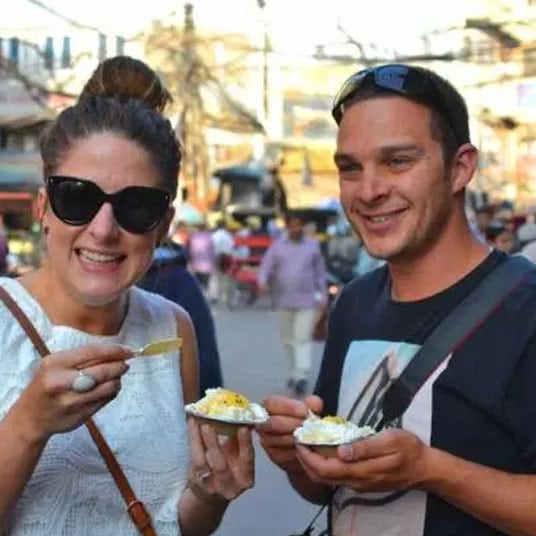 Delhi
Starting with the capital, Delhi is a tale of two cities, and very different eating habits. Better known for its culinary offerings, Old Delhi is a rabbit's warren of road-side restaurants and back alley tea stalls. Some of oldest and most popular, are entirely unassuming one man operations. Choose from a breakfast walk through Purani Delhi, a unique opportunity to witness the city waking up, as Dilliwallas begin their day with a cup of chai and plate of Bedmi Pooris. If you don't mind the crowds the labyrinthine lanes of Chawri Bazaar and Chandi Chowk are electric in the evenings, though you may have to contend with several other hungry stomachs. Expect a meal of Michelan-worthy courses (in number that is, not presentation) and a seemingly endless choice of tasty parathas, aloo chaat, kebabs, butter chicken, biryani and other Mughali preparations. Do keep room for dessert, as the proof is in the mithai. You'll need a napkin after sampling the unforgettably named Old Famous Jalebi Wala's hot sticky jalebis and if your blood sugar levels can take it, try India's answer to Mini Milk, the kulfi or a traditional rose lassi.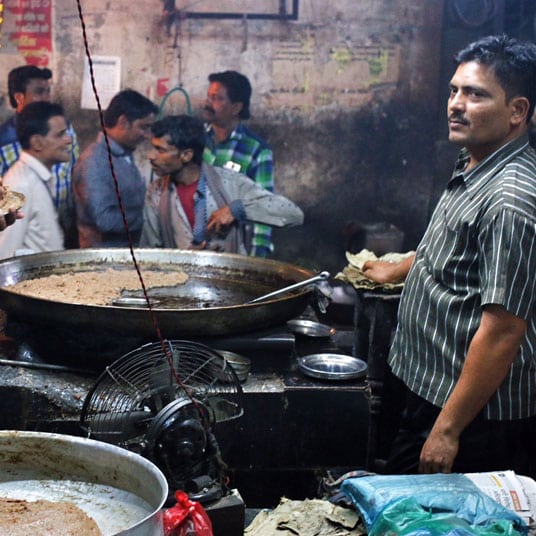 Lucknow
It's a big statement, but we'll go out on a limb here: nowhere in India is the food as interwoven with the culture as in Lucknow. As imbued with the local history, language, the very geography of the city, Lucknow has carved out an identity for itself with travellers on its food culture alone. Rediscovering the legend of the Awadhi cuisine, of which no restaurant throughout the world showcases its flavours, owing mainly to the fact that dishes can take anything between 4 and 24 hours to prepare. A food walk through Lucknow is therefore a culinary tour like no other. From evening walks through 'Bawarchi Tola', an entire colony of chefs, to sampling Lucknow's best roadside offerings. More stately dining options include dinner at Kaiserbagh, with Meera Ali, author of "Dining With The Nawabs" and her husband, acclaimed film director Muzaffar Ali. Or sample a royal meal at Mahmudabad House, the home of Rajkumar Dr. Ali Khan Mahmudabad, cooked and prepared in the same way that the family's chefs have been doing for centuries, using charcoal to cook meats and hand-made mud kilns to bake breads. They insist it's where the flavour lies.
Pondicherry
"Pondy" as it is affectionately known, remained a French Colony until 1954. Along with some impressive architecture, a cultural exchange of cooking traditions and flavours took place. Its French Quarter, lined with bakeries and coffee houses, is a charming spot where you can pick up some of the best pastries in India. But how about a food walk that takes you through its lesser-known Tamil Quarter? Meander through the vivacious 'Black Town' and dine on the dishes that the locals love to eat. Learn about how they would make frozen desserts pre-fridge freezers, under the relentless South Indian sun, what your caste says about what you eat, and just why Indian's love sugar so much. An Epicurean exploration through this historic town, providing a unique take on sleepy Pondy.
Kolkata
Bengali's are mad about two things: coffee and fish (though not at the same time perhaps). You may never win an argument with one, but you'll surely be invited to share an evening meal with them and their family. Explore Kolkata's old coffee houses, where literati, academics, politicians, and those just full of hot air, have argued it out over a strong pot and several refills. Take a turn around its New Market and dine on traditional kathi rolls, so good they're now a staple dish throughout India, endless variations of fried fish, Kolkatan favourite jhaal muri, and a plethora of sticky sweet desserts. All washed down with a cup of steaming hot masala chai. Or why not explore Kolkata's confluence of cultures? Home to a number of minority communities, who maintain their food culture as though it were their language. Sample dim sum and momos, the staple plates of Tiretta Bizarre's Chinese inhabitants or conquer the enormous Parsi dish, Berry Pulao.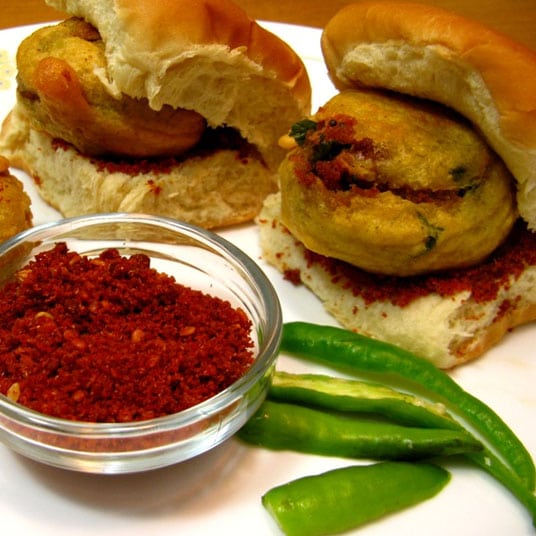 Mumbai
India's great megapolis, Mumbai attracts those seeking their fortune from every corner of the country, and along with them, come their culinary traditions. A bubbling cauldron of cultures and spices, Mumbai is famous for its Parsi cafés and its Bombay Bhel Puri.  Explore one of the city's oldest quarters, Fort, by foot, dipping in and out of famous road side restaurants and street food stalls. Sample the Mumbaiker's staple dish Vada Paav, as well as one of its favourite imports, Kerala fish curry. Whilst making sure to save some space for the mountain of Iranian-Parsi Berry Pulao. Just when you thought you couldn't stomach any more, there is a digestive 'Paan' to settle your stomach. You'll have to keep on walking for miles to work this feast off. Or why not try the unique Bohra Thali, a specialty of the Dawoodi Bohra community. Not so much a food walk, but a gastronomical endurance test, this banquet of five courses, served on an enormous communal thali will satiate even the heartiest of appetites. Can you get anywhere close to finishing it?