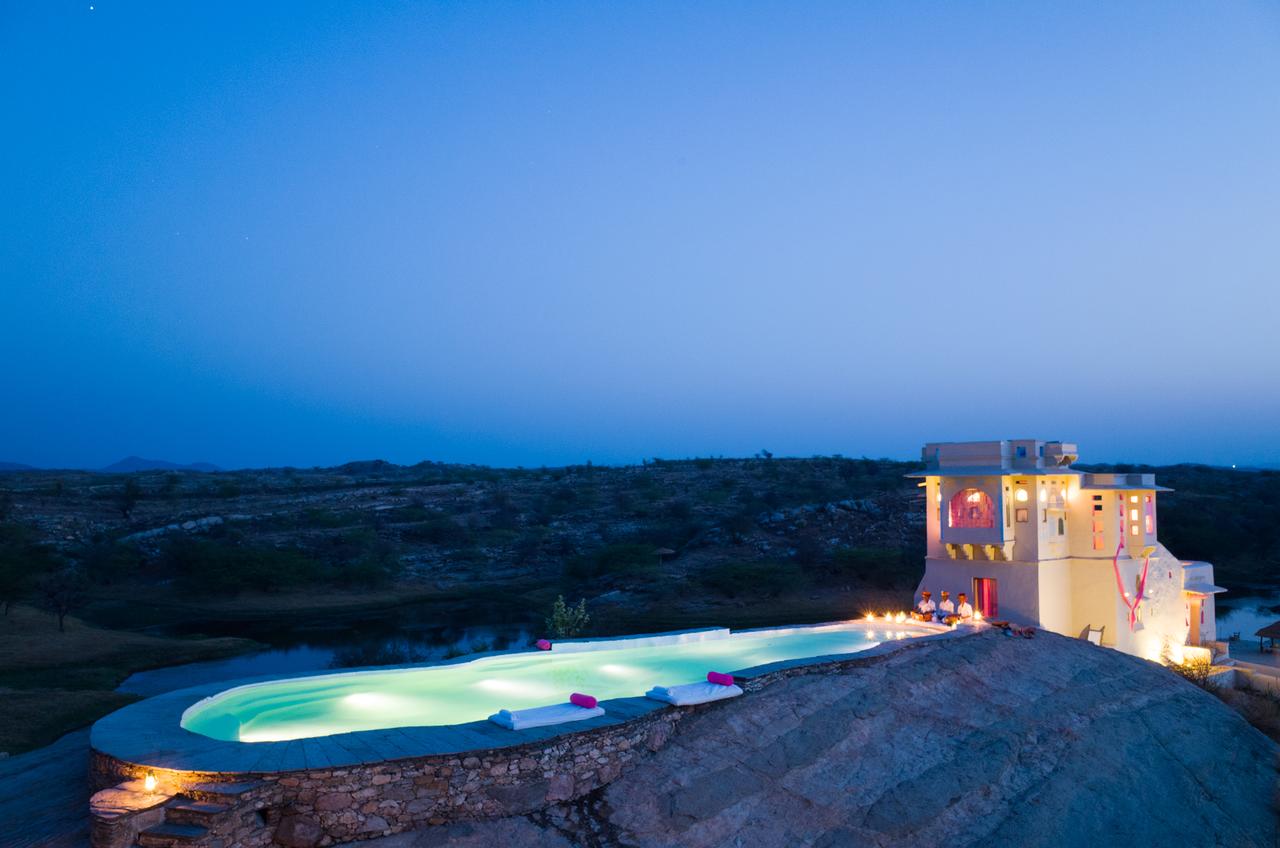 What could be better than a room with a view? Why a pool with a view of course. Just as beauty is in the eye of the beholder, the ideal holiday is in the eye of the traveller. Whether it's in between spa treatments or taking a time-out after a morning's sight seeing, nothing quite beats lounging by a glistening water body, with poolside service just a click of your finger's away. These are Bespoke India's Top Five pools in India with the best views.
Lakshman Sagar
One of Rajasthan's most colourful hotels, Lakshman Sagar's pool is carved entirely out of rock. Hidden from view, it is ensconced by 32 acres of verdant Rajasthani scrubland. So it might not be the most practical choice, what it lacks in sun loungers it makes up for in photo opps. Voted one of Condé Nast Traveller's most lust-worthy pools it makes for a seriously photogenic dip, so bring your very best swimmers (technicolor cottons to be in keeping with Lakshman Sagar's overall aesthetic). There are several charpoys dotted around the place, the perfect spot for an afternoon snooze.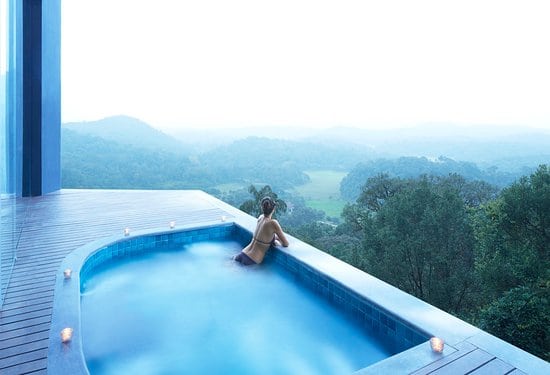 Vivanta by Taj Madikeri
Utterly stunning, Taj Madikeri's infinity pool seems to spill over onto the verdant expanse below. Opening up like a cinema screen, it looks out across 180 acres of rainforest: one could lie and watch as the clouds pass overhead for hours. Built entirely from recycled wood, local granite and river stones, the entire property blends in with its surrounds, Coorg's Western Ghats. Located 1,200 metres above sea level the landscape is often shrouded in an ethereal cloud of mist. The perfect spot to relax after an indulgent treatment at Taj Madikeri's signature JIVA spa.
Udai Kothi
A simple boutique hotel Udai Kothi has an ace up its sleeve: its show stopping rooftop pool. Right in the heart of Udaipur's old town, it affords excellent views of Lake Pichola, as well as an inviting Jacuzzi in which to lose track of time. Plus, if you manage to book the Presidential suite, you will get your very own private rooftop Jacuzzi plus indoor pool. Please note: at the time of writing this there is building work going on at Udai Kothi, but don't worry, they're busy building a second rooftop pool! An addition worth waiting for.
Oberoi Wildflower Hall
Located at an elevation of 8,000 feet Oberoi Wildflower Hall is a hotel of fairy-tale vistas. And its pool, overlooking the picturesque hill station town of Shimla, is the optimum spot from which to view them. Boasting two of India's most spectacular pools in our opinion. One, a fabulous indoor pool, adorned by overhead crystal chandeliers for guests to swim beneath; the other, Shimla's only temperature controlled pool, meaning it can be enjoyed all year round. Its close proximity to Oberoi's spoiling spa makes it even more appealing. There is a good reason that The Oberoi Wildflower Hall has been an iconic hotel for over a century.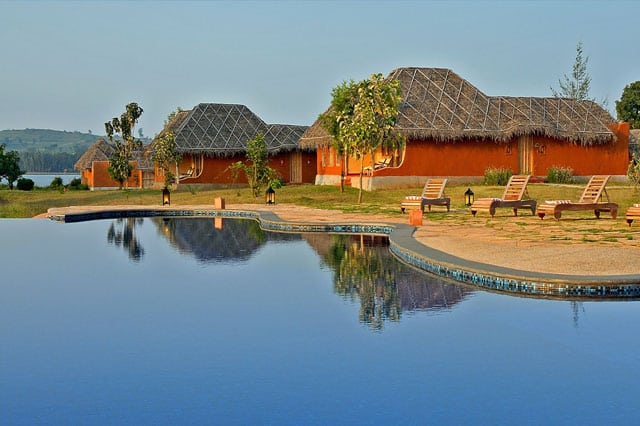 Evolve Back Kuruba Safari Lodge, Kabini
Bordered on two sides by the sonorous Kabini River, Evolve Back's Kuruba Safari Lodge (formerly known as Orange County Kabini) is the ultimate place to relax amidst nature. Its infinity pool appears to blend into one with the river. Reserved solely for adults it is a haven of calm, the perfect panacea to modern day stresses. The nearby Azure Lounge, complete with fully stocked bar and an extensive menu makes the difficult, leaving your lounger, impossible. Lest they be forgotten, children have their own pool, with several child safe zones, so you can unwind without a worry. For ultimate seclusion the Pool and Jacuzzi Huts are a real luxury, and mean you paddle in the privacy of your own room. Ideal for travelling honeymooners.
entury.