Ladakh, the Land of High Passes, so remote only your best friend or your worst enemy will visit you there. Or so the old adage goes. A former playing field of The Great Game, this Himalayan desert provided little in the way of luxury lodgings for the few travellers that ventured there. But recent years have seen an influx of boutique offerings, turning this off-the-beaten-track destination, into a holiday for all to enjoy. Located at an altitude of almost 10,000 feet, you'll need to spend a day acclimatising once you're there, so you may as well do so in the utmost comfort. Bespoke India shares our choice of Ladakh's best stays for luxury at new heights.
Nimmu House
A 45-minute drive from Leh airport this century old property was the vision of wealthy tax collector and cousin of the then king of Ladakh. He dreamed of building a 30-room abode, unheard of in these parts, after being inspired by a property he had seen on a journey to Lhasa. Sensitively renovated over a period of four years, today it features four heritage rooms located in the main house, and five tents interspersed between its apple, walnut, and apricot orchards. Both are decorated in a clean yet rustic style, with lots of natural materials local to the area, giving rooms an authentic feel. Dine al fresco, or in the traditional Ladakhi kitchen on a chilly eve, savouring comforting dishes of lasagne and local thukpa soup, fresh salads from the vegetable garden, and apple and apricot tarts and pastries, straight from the orchard. A little less sprawling than its initial planning, it is still the grandest accommodation in the area.
Lchang Nang Retreat
Cross Khardung La, erroneously referred to as "the world's highest motorable pass", (though it's still pretty darn high) and you will reach the Nubra Valley. Almost nothing in the way here, save for a few budget guesthouses, now guests can stay amidst peace and tranquillity at Lchang Nang Retreat: The House of Trees. Ensconced in elm, apricot, and apple orchards, wrapped up in a bow by the Siachen River, it is a bucolic spot. Owner Rigzen, whose family are from the area, is fastidious about his local community. Many of the staff live nearby and as much of the produce as possible is bought from their farms. Their daily changing menu proves that you do not have to rely on expensive imported ingredients to create gourmet dishes. The bountiful baker's basket in particular is scrumptious. Each of its 12 cottages are built using traditional techniques, and decorated in a cosy style. Modern bathrooms add a touch of luxury whilst private garden areas include hammocks from where to take in the most jaw dropping views. An idyllic stay in a truly remote location.
The Chamba Camp, Thiksey
Without question, the most luxurious accommodation for many miles. Unzip your tent in the morning to see unparalleled views of Thiksey monastery and the Stok mountain range. Tents are decorated in the height of Raj-era fashion, so guests can imagine themselves participant in a real caravan experience. Enormous four-poster beds, built in cupboards, chandeliers, and power showers, plus views that money cannot buy are all to be expected here. The food is as spoiling as the accommodation with gourmet meals and superlative service to be found at an altitude of almost 4km, The Chamba Camp, Thiksey proves that almost no area is too remote for five star luxury. As well as impeccable accommodation they also have a range of immersive activities, from being blessed by the local Rinpoche to hurtling down Wari-La pass on two wheels, or a consultation with the local oracle. Experiences you will not find on offer at other stays. Unforgettable from beginning to end.
Stok Palace
A heritage lovers dream, you would be hard pressed to find a more iconic stay in Ladakh, than Stok Palace. The royal abode of the reigning royal family, the 34th generation still in residence. Guests are able to meet with the King and Queen and will find them a fountain of knowledge when it comes to Ladakhi history and culture. And if HRH's anecdotes are not enough, the palace is home to an excellently curated museum, where travellers from around Ladakh come and visit. Comprising just six suites, each is uniquely decorated, with archaic pillars and hand painted murals. Though it may not be to everyone's taste – some might find the dark interiors a little pokey – they are as traditional as it gets. The only inauthenticity is the concession of modern bathrooms, but we'll allow for that in the name of comfort. Experience a private cooking demonstration in the family kitchen, or dine al fresco and take in the Stok Valley views. There are some excellent guided walks right from your front doorstep, or embark on a trek to the Stok Kangri base.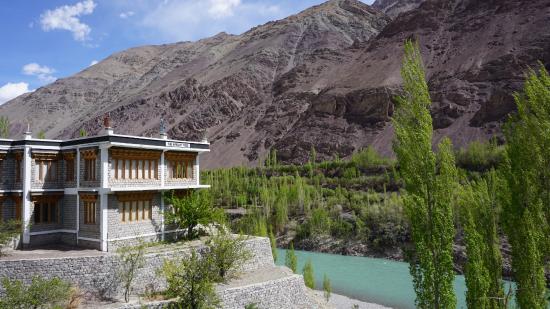 Apricot Tree
A small boutique property, ideally located for exploring Alchi monastery. Overlooking the Indus River it commands views from a peaceful apricot orchard. Combining nature with all the modern amenities to ensure a comfortable stay, each of its 21 rooms include a private balcony with uncompromised river views. An exhilarating sight. There are some exceptional treks in the area as well as well as river rafting. Understated yet ideally located.