For some reason Tamil Nadu never quite made it onto one of the better-known tourist circuits in India, being constantly overshadowed by the better-known Rajasthan and Kerala however, this has, in my opinion, played to its advantage. Where certain of the better-known destinations are now firmly on the tourist trail, and all the accoutrements that accompany that, touts and shopping scams and overcrowding, Tamil Nadu has remained free from the above and remains as much a pleasure to travel around today as it was when I first visited back in 1998.  The only disadvantage to it remaining relatively undiscovered was that no one was ever really too bothered about opening wonderful hotels here, but even that has now started to change and a really charming selection of boutique properties are now ensuring that this lesser known state is finding its feet.
What people most know of in Tamil Nadu are its temples, and they are indeed extraordinary.  Huge towering gopurams (gateways to the temples), some rising as much as 50m in height, covered in gaily painted, cavorting gods abound in every city, and all places in between. You can't miss the temples in Tamil Nadu and you shouldn't want to, unlike most monuments that are full of tourists on the Golden Triangle circuit, Tamil Nadu's temples are living breathing live monuments where hundreds if not thousands of devotees still gather every day. There is never a dull time to visit a temple here, and it is a fascinating insight not just into the extraordinary architecture of the era but of the levels of devotion of the Hindus of south India and their daily rituals. However, it is also easy to get templed out.  Our recommendation is to choose carefully, take in the main ones, and then discover some other hidden gems of this beautiful state.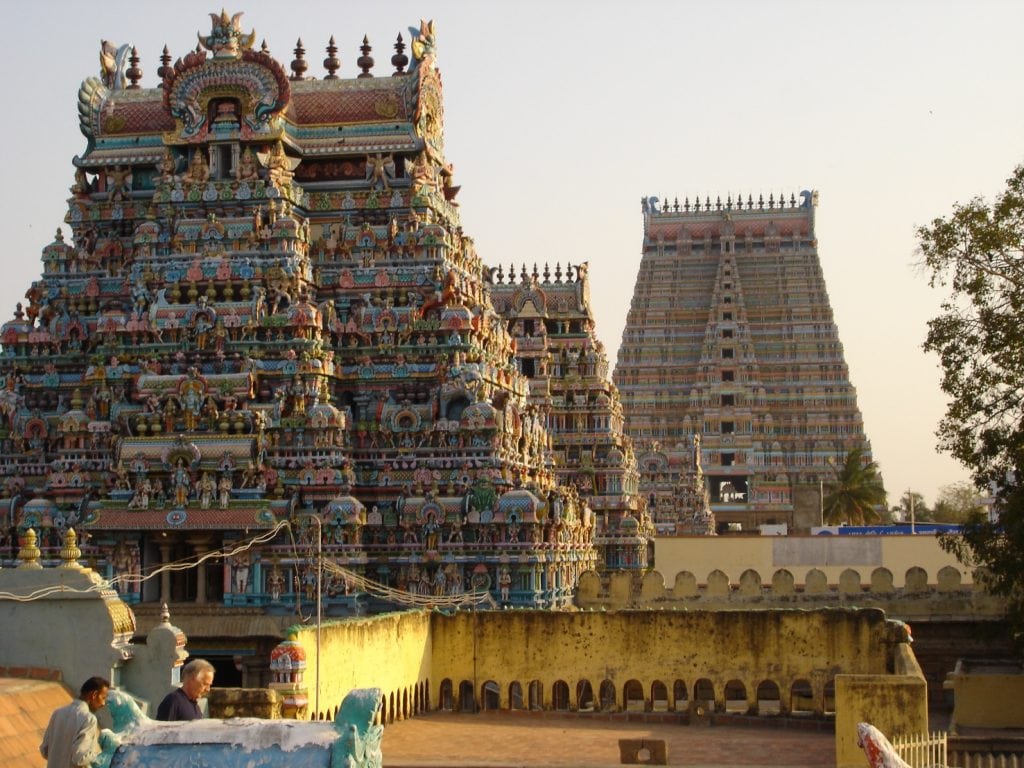 The obvious choice is the Sri Meehakshi Temple in Madurai. It is the one most people want to visit and quite rightly so.  It is extraordinary, all life is played out here, both living and in the realms of the gods.  Thousands of devotees day and night flock here in brilliant coloured saris and the smell of jasmine is carried throughout as it is used to adorn the hair of most of the ladies of south India. It is a place to worship, gossip, shop for tat, or simply stand in awe at the sheer scale of this temple built back in the mid sixteenth century. It can, quite literally, take your breath away.
My personal favourite is the Sri Brihadeeswara Temple in Tanjore, or, if we are being correct, Thanjavore. Unlike Madurai, this one is not brilliantly painted, letting the extraordinary sculptures do the talking. The scale of this temple, which was built over 1000 years ago, from giant blocks of granite, all of which had to be imported in, as it is not local to Tanjore, is beyond belief.  I have visited this temple many times and each time, I have a completely different experience.  My very first visit was in 1998, arriving late afternoon, the sun had lost its strength for the day, meaning that we didn't have to jump and hop our way around (yes, you have to visit these temples with bare feet). We were taken around, overwhelmed with the stories of how the temple was constructed, trying to come to terms with who each god was, what their story was, who tried to destroy who, who married who and just how many were reincarnated into what form.  Even now, 20 years later, it is enough to make my head spin.  But then, a little magic happened. The sun began to set, the swifts and swallows began to swoop and dive, the few remaining devotees made their way back from where they had come, the colours began to glow in their sunset hues and a great sense of peace washed over me.  This might have been the first moment that I truly connected with this extraordinary country. Other times I have visited are the days when the priest count up the donations, a whole temple filled with stacks of coins, another time when a classical dance performance was taking place, another after sunset when the colours had changed all over again and the chanting of the priests in each individual temple made it an ethereal experience. This firmly remains my favourite.
The third must see for me is the The Sri Ranganatha Swamy Temple in Trichy which is extraordinary. Situated close to the banks of the Cauvery River, this is quite possibly India's largest temple complex, its gopuram is 73 metres high and tens of thousands of people live within the four outer sets of concentric walls, the inner three housing the temple itself. There are 49 statues of Vishnu, vying with motorbikes, people, dogs, shops, restaurants and cars all of which have to be negotiated before one can get close to the inner sanctum (non Hindus are not allowed) oh as well as seven more imposing gopurams.  It is easy to get lost here, to get caught up in the whirl of chaos in the outer walled areas, but it is fun to do so too. Allow time, it is not a place to visit in a rush, one can't simply tick this one off the list. It has to be explored and absorbed, chat to the locals, have a fresh lime soda from one of its local eateries, listen to the stories from your guides, see all the stalls selling items, coconuts and bananas and flowers for their offerings, see the joy and the hope on the faces of all who visit.
A visit to Tamil Nadu will reward you in a way that no other state in India can. Take a journey through the state in its own right or combine it with a visit to Kerala. You won't be disappointed.
You can learn more about our Bespoke Travel to Tamil Nadu on our main Itineraries Page
Our Coast to Coast Across the South Tour Starts from GBP1703.00 per person