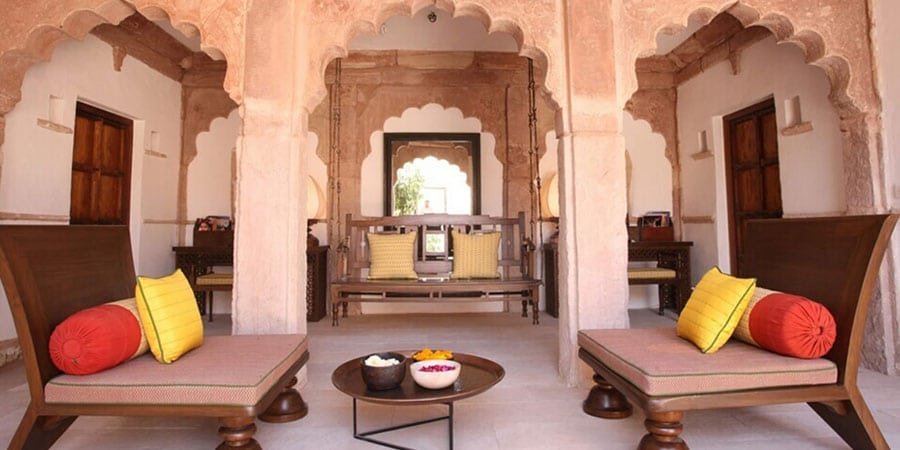 It's tempting, in a state as vast and often overwhelming as Rajasthan, to follow the well-trodden tourist trail. Travelling from one chain hotel to another, can offer a sense of familiarity; but is this not the very antithesis to why we travel in the first place?  If India, a country where "Guest Is God", goes above and beyond with their hospitality efforts, then Rajasthan provides the gold standard. With an abundance of forts, palaces, and hunting lodges turned hotels, to skip such princely offerings would be to miss out on the very essence of this kaleidoscopic state. Colour, flavour, pastoral scenes and urban clamour: they are all waiting to be discovered in the Land Of Kings. So take a detour from the run of the mill route, and explore Bespoke India's pick of Rajasthan's best boutique hotels.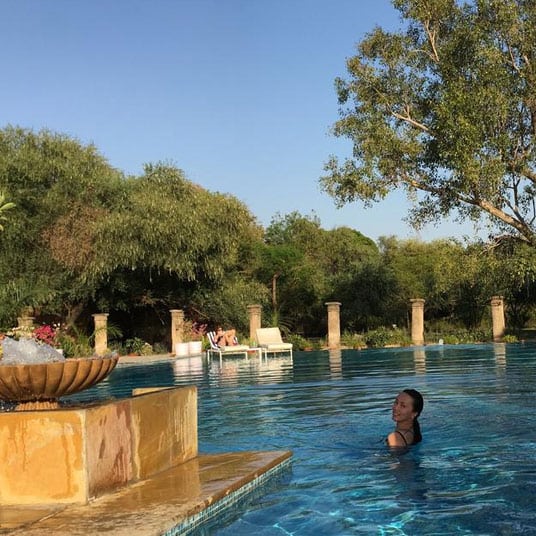 Shahpura Bagh
Still owned, run, and lived in by the rulers of Shahpura this rural idyll is an authentic boutique 'homestay' experience – all be it the home of landed gentry. With just nine bedrooms it is small enough to feel intimate yet large enough that guests can have their privacy. Spend the day lounging by an Ibiza-worthy pool and evenings indulging in one too many drinks and canapés by the fire, hanging on to owner Jai's every word. For a change in tempo, it's the perfect detour from the clamour of Jaipur and Udaipur.
Bera Safari Lodge
An oft-overused term, 'a hidden gem' truly applies to Bera Safari Lodge. Almost equidistant between Udaipur and Jodhpur, it is the perfect detour between cities to go in search of the Indian leopard, under the trusty guidance of passionate conservationist (and talented photographer) Shatrunjay Pratap. Unwind in your private cottage, ensconced by the rugged scrubland of bucolic Rajasthan, as you observe the Rabari tribesmen, identifiable in their white dhotis and crimson red turbans, shepherd their flocks from sunrise to sunset.
Ranvas
In the midst of the Thar desert, within the walls of the 12th century Ahhichatragarh Fort lies Ranvas: an architectural triumph. Located across ten 18th century havelis, each one with its own courtyard and al-fresco living space, guests are made to feel like the Maharanis for whom the property was originally built. The pool, achingly exotic, is surrounded by bougainvillea, pomegranate trees and the sonorous call of a peacock or three. It's almost impossible to tear yourself away from, especially when chai and samosas are brought to you in situ. A Rajasthani fort hotel created with the modern traveller in mind.
RAAS Jodhpur
Hidden away down an unassuming lane, RAAS hotels' grand Mughal gates do not give away the secrets that lie beyond. Raising the bar in Jodhpur, this design property changed the meaning of 'boutique hotel' in the blue city. Eschewing traditional decorative clichés in favour of a modern reimagining of Rajasthani aesthetics. Traditional lattice screens take on a more geometric shape, and fold back to reveal unparalleled views of the Mehrangarh Fort, right from your bathtub. An urban oasis in the heart of Jodhpur.
Mountbatten Lodge
You will feel like Lord Mountbatten himself when greeted by the welcome party at Mountbatten Lodge. A Raj-era example of a Maharaja's hunting lodge, it showcases the close relationship between these erstwhile rulers and "The Britishers". A relationship that is still entertained today. Think cane furnishings and wing-backed chairs; dining on authentic hunting recipes accompanied by silver-service. This four-suite property allows guest the utmost privacy and is a perfect base to explore nearby Kumbhalgarh Fort and Ranakpur Jain Temples. Traverse the surrounding Aravalli hills in search for of leopard, deer and wild boar.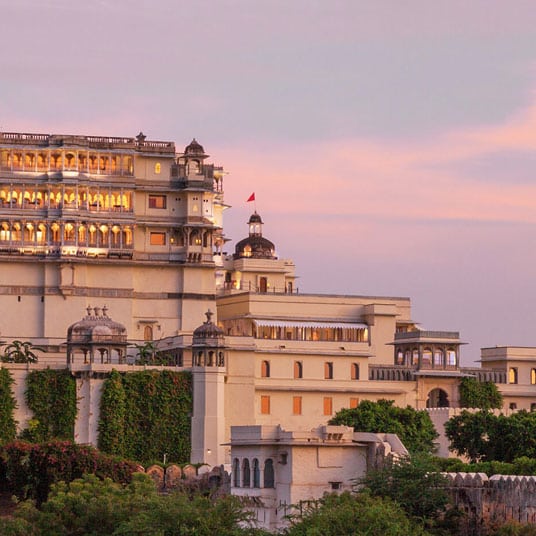 RAAS Devigarh
Another RAAS property, continuing to redefine Rajasthan's boutique hotel stay. A forty-five minute drive outside of Udaipur, RAAS Devigarh is certainly worth the detour. Its sunny yellow edifice seems to have been built one section on top of the other, it just keeps on going. And its elevation commands the most spellbinding views across the Aravalli hills. As with RAAS Jodhpur, traditional decors are reinvented with a contemporary edge: Udaipur miniature style murals, capacious baths carved out of white marble, and modern artworks. An Ila spa and Himalayan rock salt sauna make it difficult to leave, whilst the superb menu, much of which comes from its own vegetable garden, means you don't have to.
Bhainsrorgarh Fort
Teetering (some might say a little precariously) on a two hundred foot high precipice, Bhainsrorgarh Fort enjoys a Bollywood movie worthy backdrop. With the Chambal River flowing languidly below, you'll feel a world away from the bustling princely town of Kota, its low-rise skyline visible in the distance. Run and owned by the royal family-in-residence guests are spoilt with the very best in Rajput hospitality. Decorated in a traditional Rajasthani style – colourful textiles and decorative arches – no two rooms are the same, though those on the first and second floors afford the most enviable views of the Chambal River and picturesque landscapes.